Christian Ministries is a church where you are welcome! Our vision is to minister to the family by impacting the individual. We aim to teach the Word of God in it's complete truth and life-changing power. We believe the Christian life is to be lived all week long. Being a part of the CMC family gives you a strong foundation and environment to grow from and thrive in with other Christians.
Learn more..
Sunday
Nursery available for ages 0-4 during services
CM Youth (grade 7-12): 6:00pm
Wednesday
CMC Kids (grade K-6): 6:30pm
Nursery & Pre-K class : 6:30pm

HISTORY
Christian Ministries Church began on September 17, 1972. Don and Hettie Lue Brooks started the ministry in Hot Springs, Arkansas along with their family. Pastor Ashley Ellison was ordained out of CMC, and began pastoring this work in Southwest Missouri in 2004.

OUR HEART
Christian Ministries Church is a non-denominational charismatic church focused on making a positive impact upon the cities of Southwest Missouri by creating a church atmosphere where all individuals and families can grow in faith and discover God's plan for their lives.
MEMBERSHIP
Christian Ministries Church does not have a formal membership process. If you are a regular attendee, then you are considered a member. However, we do have new members' dinners to introduce all those who have joined in the past year.
LEADERSHIP & MINISTRY TEAM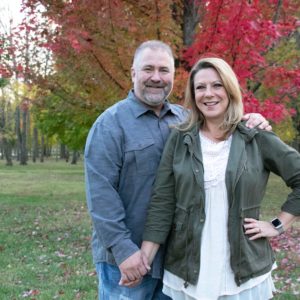 Senior Pastors:
Ashley & Michelle Ellison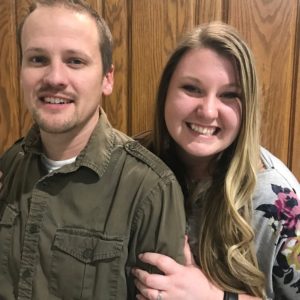 Adam & Cynthia Jones:
Adam Teaches Math at CMA and is a great communicator of the Word.
Chatman & Hannah Laxton:
Chatman teaches Math and English Class at CMA and coaches the basketball team.
Derek & Courtney Harralson:
Courtney Teaches Kindergarten through the 2nd Grade at CMA.
Melanie &

Rick

Bertoglio:
Melanie Leads Worship at CMC and teaches English Class at CMA.
Kenan & Tristyn Sims:
Kenan keeps up with the grounds and maintenance at CMC. Tristyn does media and works in the church office.
Christian Ministries Church is active! We want YOU to
get to know
others, and be known.
The best way to get connected is by committing yourself to a life group. Serving in our church and community, and participating in services and events are great ways to connect also.
Scroll down to learn more about
each group and how to become involved.
College & Career
The College & Career Life Group brings together "young" people from similar walks of life. If you're a recent high school graduate, current college student, or even in your 20s or 30s, this group is for you! Connecting with like minded people in this stage of life is foundational for your walk through life with Christian friends. We want to connect and do life together! Check out our upcoming events below!
Young Married
This Life Group is for married couples that still are not a long way into the whole "family" experience. It's that time of discovering what partnership and friendship in your marriage is really all about, and for some of us, how to manage life with young children. So if you are newly married, been married for a while with no kids, or maybe even have a few little ones, the "Young Marrieds" Life Group is a great place for you!
Early Family Life
Do you usually find yourself barely completing a hectic day's schedule and then just starting all over again the next day? So do we! The early years of family life can bring many changes and challenges. In the midst of these busy schedules, it is so important for young families to enjoy the season they're in and stay connected and involved in the Body of Christ. This enthusiastic Life Group exists to encourage families to grow in intimacy with God, with one another, and with other families.
Mid Family Lif
e
If your kids are from middle school to high school age, you'll connect with the families in this Life Group! We're all trying our best to raise godly young people into successful adults and keep our families unified, sometimes despite our conflicting schedules. This Life Group provides a great opportunity for some quality family time, while building lasting relationships with other families in this season of life! It's so important to do life with people in the Body of Christ. Join us for our next event!
Abundant Life
Together we're celebrating this season of life, as middle-aged adults and all that comes with it! This Life Group is for adults, married or single, who find themselves done or almost done with parenting, or maybe you've never had children. We want to connect with you! We can get caught up in our own daily lives and miss out on building significant friendships with other Christians. Don't miss the great times to be had with friends in this life Group!
JOY Group
"Just Older Youth" is our most experienced group. You can find us enjoying our highly secret and most sought after recipes for all sorts of meals and deserts. We tend to get pretty rowdy when it comes to our card games and board games. We are definitely young at heart and want to remain connected within the Body of Chr

ist

.
Jul 17, 2019

Romans Part 2

Jul 14, 2019

Something Better pt.2

Jul 11, 2019

Romans Part 1

Jul 7, 2019

Something Better

Jul 3, 2019

God First

Jun 30, 2019

Independence Day

Jun 26, 2019

First Things First

Jun 23, 2019

What He Preached and What He Practiced

Jun 19, 2019

Time: A Great Exchange? Part 2

Jun 16, 2019

Joe McGee
Thank you for being generous and making an impact through CMC. God is doing an amazing work at Christian Ministries Church.